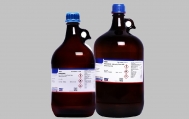 CDH has been offering a wide range for Organic and Inorganic Solvents to the research and clinical laboratory community. Whether you need HPLC solvents, AR/ACS solvents, anhydrous solvents, or any other high-purity research grade solvents, we can provide the right product for your application.
HPLC Solvents are an extremely useful lab testing chemical which is easily obtainable in the market. Various suppliers and manufacturers of lab chemicals have responded by delivering high purity solvents and reagents generally branded for a special device method. The "spectroscopy solvent" or "HPLC Solvent" are typical examples. It is just because their own so-called "analytical grade" items are actually great for today's modern analysis and laboratory testing procedure because, mostly lab chemical suppliers are no more than that. This is why they manufacture and supply only premium quality laboratory chemicals for more effective results.
When we talk about Acetonitrile HPLC, it is the colourless liquid compound which has the simplest organic nitrile. It is well-known and best category of HPCL Solvents which is produced generally as a byproduct of manufacturing acrylonitrile. The chemical compound is utilized as a polar aprotic solvent in the butadiene purification and in organic synthesis.