ANALYTICAL REAGENT (AR)
Our Product range covers many AR Products conforming to the highest international standards for Analytical and Research work of the most responsible character. The trace impurities in these Products are restricted to the lowest possible limits for the utmost precision in laboratory work. We have designed a lot of products to meet the analytical specifications of IP, BP, USP, EP to fulfill the requirements of Pharma Industry.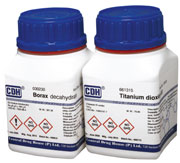 FOR SYNTHESIS (LR & EP)
General purpose reagents used in many potential applications in chemical laboratories, careful control ensures that a consistently high defined quality is maintained throughout.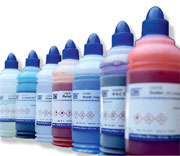 FOR MICROSCOPY
Microscopy stains are standardised by UV spectrum and controlledby TLC . They correspond normally to the specifications given in H.J. Conn's Biological Stain (1977).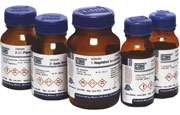 FOR BIOCHEMISTRY
Highly Purified Reagents for use in Biochemicalre search and analysis. They are free from inhibits such as traces of heavy metals and tested with a view for Biochemical work.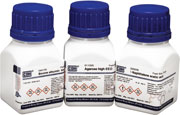 FOR MICROBIOLOGY
Products which have been specially purified and tested for their microbiological applications.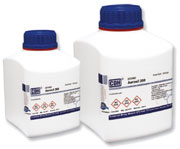 PURE, PURIFIED
Purifiedcommercial products used in many chemical laboratories.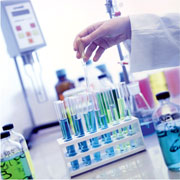 DIAGNOSTIC REAGENTS
These are specially produced for the use of various hospitals, clinical & pathological laboratories for diagnostic purpose.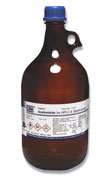 HPLC GRADE
Continuing advances in the use of HPLC have led to an increased demand for solvents and reagents in wider range of application areas, particularly for biomolecular and ion separation. Key parameters such as UV absorbance, transmittance, nonvolatile matter, moisture content, fluorescence impurities and assay are very carefully controlled.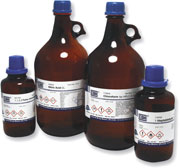 DRY SOLVENTS
These solvents are processed & distilled with drying agents to obtainaminimum possiblemoisture content and are most suitable for Moisture Sensitive Reactions.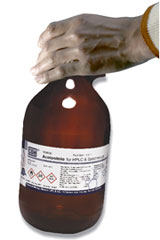 SPECTROSCOPY GRADE
These are solvents of high optical purity for UV / Visible / IR / Fluorescence / NMR and Mass spectroscopy. The certificate of guarantee includes assay, minimum transmission at certain defined wavelengths in UV range, moisture content, non-volatile matter etc.
NMR FOR SPECTROSCOPY
NMR for spectroscopy & deuterated solvents are provided to NMR-users for use in chemical analysis and R & D worldwide.
EL GRADE CHEMICALS
These chemicals have very stringent limits for metallic impurities as required by the Electronic Industry.
BP / USP / EP
Suitablefor Pharmaceutical applicationthese products are specially purified to meet the Analytical specification of BP/USP/EP