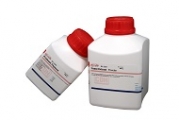 Microbiology is a captivating field to perform in as it deals with organisms which we are unable to see from our eyes. We require specific magnifying instrument to view them. All the chemicals and medicines for various industries or other works are formulated by using several methodologies.
Developing a microorganism or any other type bacteria is actually a tiresome job and needs patience and essential component that stimulates the growth of organism called Culture Media Base. Our organization is well-known to manufacture and supply various kinds of Culture Media such as Cell Culture Media and many more. Our specialized team has been using various types of culture media to stimulate the development of the microorganism.
Cell culture media mostly consist of a correct source of energy and elements which regularize the cell cycle. A regular culture medium is combined a complement of vitamins, amino acids, serum, glucose, and inorganic salts as a source of hormones, growth factors, and attachment factors. We are promised to provide to best quality product to our esteemed clients.